Aug 6, 2020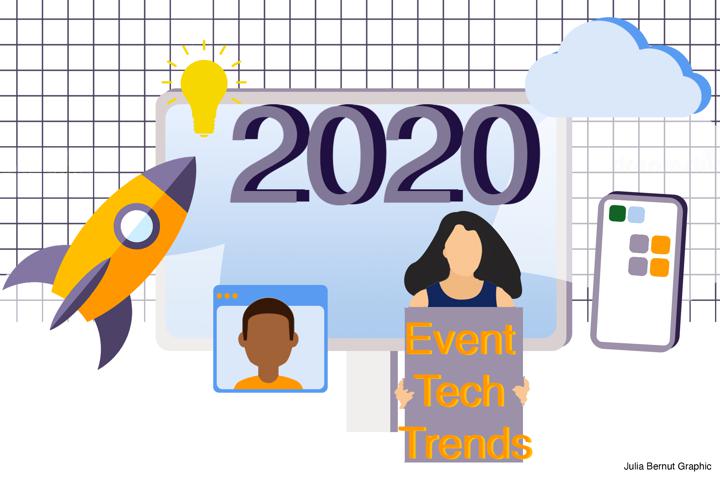 So we all know that the pandemic has accelerated digital transformation in our daily lives. While we're embracing the new normal, we're keeping an eye on what is trending now and what is coming next.
We have summed up the latest technology trends for the meeting & event industry in 2020 and tech tools you should know about. Whether you're a forward-looking event planner or a curious virtual event attendee, there's a plethora of platforms popping up that are transforming the way we learn and meet. 
In this post we will cover:
Tech trends in 2020
Different event tech tools
Some of our favorite event tech
Let's check them out! ?
TECH TRENDS IN 2020
?Artificial Intelligence
Although AI is no longer a new word to us, the use of AI in meetings and events is on the rise as it helps customize and facilitate attendee experience with convenient technologies. There are some common examples of AI applications in events:
Chatbot: From answering questions to giving recommendations, chatbots can help with building customer relationship and improving brand image.
Voice translation: You'll be able to extend your event to attendees beyond your mother tongue and easily increase international exposure.
Facial recognition: Facial recognition software allows for a safe, seamless and faster checkin process for attendees, especially during contactless events. 
?AR and VR
Augmented reality and virtual reality are becoming more dynamic in terms of bringing a fun and interactive experience for attendees. Especially with virtual events, you can create another world using AR or VR tools to provide a super cool and immersive event experience that allows your audience to escape from quarantine.
?Mobile Event Apps
People today are lazy to go on specific event website to check information and go to email to find meeting links. Mobile event apps with features like registration, networking and gamification are more popular than ever. For virtual events, event apps play an even more important role in engaging audience and providing them a sense of community.
?Audience Interaction
Enhancing attendee experience through more lively engagement and interaction is one of the biggest missions virtual event planners have right now. With the help of various audience engagement tools with features like audience response, collaboration and gamification, it won't be difficult to bring a fun and new vibe into your events which will allow everyone feel included.
?All-in-one Virtual Venue
Don't tell me you're only aware of one virtual venue or video conferencing platform. With the desperate need of an online platform for your community to congregate during virtual events, video conferencing platforms are diversifying their features beyond meeting rooms, chat boxes and screen sharing.  There are many all-in-one platforms which provide a wide variety of features ranging from check-in, stages and sessions, virtual sponsor booths and in-event engagement. 
EXAMPLES OF GREAT EVENT TECH TOOLS
1. Zenus
A facial recognition software for events, Zenus offers checkin registration, analytics cameras and event analytics through facial recognition. Zenus can be integrated through their API integration, Zenus Microsites and Zenus Snippets.
Maximum Number of Users: not limited
Pricing: $1.5/attendee
Customization: YES
2. Zappar
Zappar is an AR platform and creative studio which provides the headset ZapBox for Mixed Reality and Room-Scale Augmented Reality experience, the AR toolkit ZapWorks for AR content creation, and the app Zappar for AR content access.
Maximum Number of Users: 3
Pricing: $190/month (ZapWorks)
Customization: YES
3. EventMobi
EventMobi is an event management platform which offers virtual event platform, event app platform and attendee engagement. With EventMobi's multifunctional app, attendees will benefit from private and public messaging,  live polls & surveys, aggregated information, gamification and interactive mapping. 
Maximum Number of Users: Unlimited
Pricing: not disclosed
Customization: YES
4. Piccles
Piccles is a creative visual communication tool for virtual icebreakers, audience engagement and team building activities by combining art and technology. By simply asking a question to your audience, you can start collecting drawings live and you can also turn the results into creative data visualizations and videos.
Maximum Number of Users: Unlimited
Pricing: $49+ based on number of participants
Customization: YES
5. Hopin
Hopin is an all-in-one virtual venue for hosting online events. With Hopin, you will get five core features: Reception, Stage, Sessions, Networking and Expo areas. For instance, at a Hopin event, your attendees can network one-on-one with live videos, join breakout sessions and explore interactive expo areas at the same time.
Maximum Number of Attendees: Unlimited
Pricing: ~$0.50 / attendee
Customization: YES
---
This is only a fraction of what's out there though.  Virtual events are here for the foreseeable future, and the sooner you start experimenting and learning, the easier it will be. It's still possible to provide an incredible experience for your attendees and differentiate your events, but you'll need to tap all of the tools available to you to thrive in this new environment. 
We genuinely hope this article will help with your next successful event :)
Thank you for reading!

Sign up for our Newsletter here for more industry tips, drawing challenges and engagement tools and updates about what we are doing!